CMP M1 Garand Semi Auto Rifle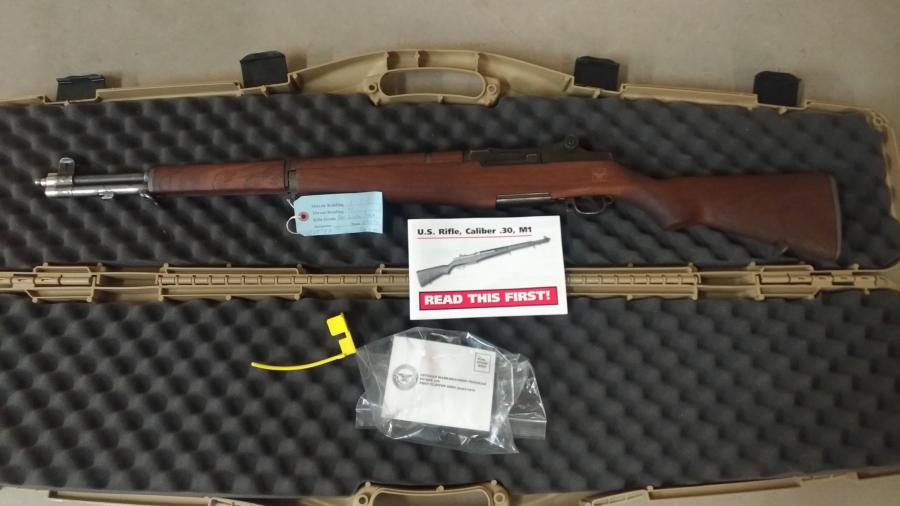 Currently Unavailable
MSRP

$1,29999
CMP M1 GARAND SEMI AUTO RIFLE BARREL 24
Per the newly completed and signed Memorandum of Understanding MOU between the U.S. Army and the Civilian Marksmanship Program M1 Garands will be limited to eight per calendar year per customer. The new limit of eight M1 Garands goes into effect immediately and any customer who has purchased over eight will not be allowed to purchase more M1 Garands until 1 Jan. 2017. The CMP considers any item containing an M1 Garand receiver with a serial number to be an M1 Garand and will deduct from the eight M1 Garand rifle limit per year.

In the past ten years the M1 Garand regardless of condition has become a very hot collectors' item and sound financial investment. The popularity of the M1 Garand continues to grow as hundreds of new Garand "Fun" Matches are being held all across the USA each year.

Over the past 65 years most M1 rifles have been arsenal rebuilt refinished rebarreled or repaired at least once and often several times. Most will show signs of service often considerable and replacement of various parts. They are seldom encountered with all original parts and original finish as delivered from the manufacturer. Such original rifles even in well-used condition are highly prized by collectors.

nlu786

A true tour de force of gun scholarship this is the
complete story of the M1 Garand service rifle as told by
one of todays's foremost arms authors and researchers.

NLU 786- Bruce N. Canfield The M1 Garand Rifle

Each M1 Garand rifle sold by CMP is an authentic U.S. Government rifle that has been inspected headspaced repaired if necessary and test fired for function. Each rifle is shipped with safety manual one eight-round clip and chamber safety flag. Orders are filled on a first-come first serve basis. Rifles of all grades are packed for shipment purely by luck of the draw. Rifles do not have import marks. Prices are subject to change. If price has changed after an order has been received customers will be notified before new prices are charged. Free Shipping except Puerto Rico and PO Boxes--Contact CMP for additional S&H.. Click here for ordering information.

IMPORTANT If your State or locality requires you to first obtain a certificate license permit or Firearms Owner ID card in order to possess or receive a rifle you must enclose a photocopy of your certificate license permit or card with the application for purchase. Rifle shipments to NY and NJ must be made to a state licensed dealer. You must provide a copy of the dealer's license with your order form. Rifle shipments to CA must be made to a State licensed dealer or may be made to individual homes providing that a CA Certificate of Eligibility and a Curio and Relic License are provided. Rifle shipments to CT must be made to licensed or dealer or may be shipped directly to the customer if a C&R license is provided.
Item Info
| | |
| --- | --- |
| Item | Available In Store |
| UPC | 121217121217 |
| Brand | CMP |
| Model | CMP M1 GARAND SEMI AUTO RIFLE BARREL 24 |
| Caliber | 30-06 Springfield |